One Piece 773 Spoilers: The last Chapter end with Cavendish awakens Habuka, and takes Dellinger down in an instant.…!! So what happens next..? find out story on One Piece 773 Spoiler 「ワンピース ネタバレ」 第773話 at Mangapanda.info. if you would like to discuss the Spoiler or prediction, please leave a comment below.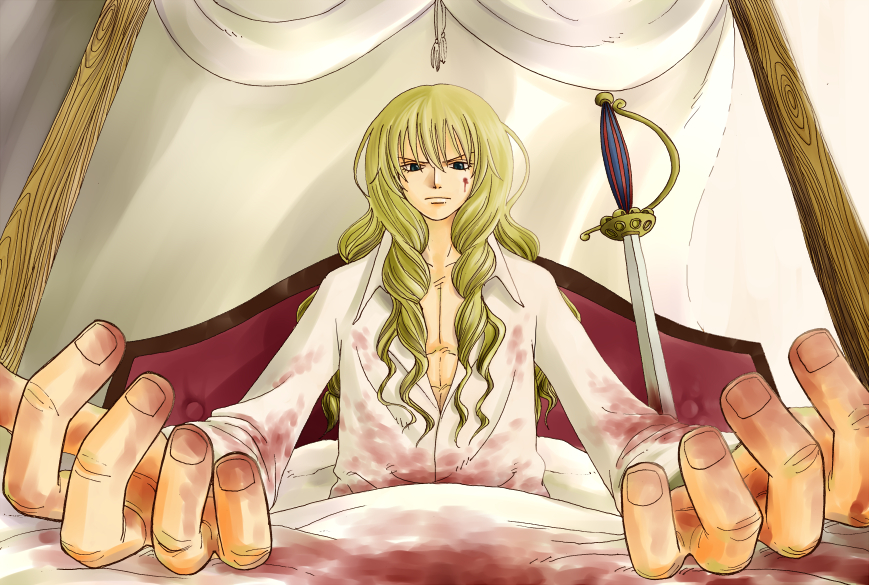 ONEPIECE 733話『ハーフ&ハーフ』
扉絵:お供えのお返しに海底の人間の家を引き上げてあげただけら
バルト「あ…あいつ誰だべ?後はキャベツ野郎しかいねェけども!顔はまるで違う奴だべ!!」
倒れこむデリンジャー
バルト「あのツノつきのクソガキも…敵兵たちも皆やっちまいやがった…!!」
グラディウス「くそっ…デリンジャー!!」
バルト「これはコロシアムのDブロックで起きたのと同じ状況だべ…
こいつの仕業だったんだべか…!!あの服装はどう見てもキャベンディッシュ…
だが顔はどう見ても別人ディッシュ!!あれは一体…何ディッシュだべか!!」
一瞬でバルトの目前に移動し、バリアに斬りつけるハクバ
バルト「ぎゃあああ~!!びっくりしたべ~!!速くて見えねェ~!!
お前何考えてんだべ?どうしちまった?冗談も程々にしねェと…」
ロビンのほうを見やるキャベン
バルト「!!うおい!!今何をチラッと見たァ!!バカなこと考えんでねェど!!?や~めーろー !!」(怒)
ハクバがロビンのもとに移動しよとする
バルト「ロビン先輩を狙うなァ~!!」(泣)
ロビン(ゾクッ)
ハクバ(ギュオッ)
ロビンは能力でハクバを止める。
ロビン「ムダよ…私の前では能力は無力…ずいぶん人相が悪くなったわね、キャベツ君…何かご用 ?」
ハクバ「…!!」
ロビン「レベッカが心配で…私上へ急いでるの」
バルト「うお~!!ドビン先輩ェ~!!」(おれなんかがあんたを守ろうなんて、やっぱりおこがましかったん だべ~!!)
キャベン「待て…ハクバ」
ロビン「!?」
キャベン「お前の出現など…!!ぼくは許可してないぞォ~!!
…ハァハァ、危ない!すんまんニコ・ロビン、キミを斬るところだった」
続く
Chapter 773: "Half & Half"
The lonely journey Knight Jinbe NAV Sea. 19: Oda explains in 5 steps how you got to that point Wadatsumi.
Dellinger kneeling on the floor, paralyzed and bleeding. The henchmen of Donquixote Family who were in the area begin to fall one to one defeated.
Bartolomeo seen that hakuba change target to robin. When Hakuba is close to Robin. Bartolomeo warns Robin.
Robin immobilizes his body with 8 arms and reinforces mounting with 2 larger hands to grab hakuba entire body. Bartolomeo cries of excitement to see what it is capable of XDD make your dear Robin.
Hakuba still stands, Robin looks at him with surprise. Suddenly Cavendish regain his will again.
Cavendish asks Robin to drop the wall and you can end Gladius but Robin is not convinc.
Bartolomeo try to cover Gladius with his own barier but Gladius is faster and attacks him with "Punc Hair".
Bartolomeo have been injured. Bartolomeo uses the attack "Barrier Ball" creating a barrier that covers Gladius, although he stays inside too. Then he takes a knife and stabs Gladius.
Gladius self-exploited, Bartolomeo is seriously wounded by the explosion. Bartolomeo remains conscious and the barrier is still active and can not leave. Bartolomeo says you can not go to blow up the wall but Gladius says it does not matter because you can do remotely. Cavendish has returned to its dual form with Hakuba and asks Robin release him if he wants to escape the explosion.
Gladius uses the attack "Punc?: Super Arena" (missing a part, sorry) and makes the wall explodes. And thanks to the Bartolomeo barrier. A voice is heard near the hole created by the explosion, Cavendish / Hakuba have escaped with Robin.
Gladius is quite angry because Robin has escaped, Bartolomeo takes the opportunity and lunges for him. and attack him with the "Bari Bari no Pistol" (copied the name of "Gomu Gomu no Pistol" adapted to their Akuma no Mi, how great XDD). The punch with the barrier is so powerful Gladius Stamping to the ground and left completely KO.
In 4th level, Diamante attacks Rebecca with his sword waving. However, Robin appears in front of Rebecca and stops the sword attack with "Mil Fleur: Cochouran" (Orchid Aphrodite)
[Thanks Akagami]
One Piece 773 Spoilers Trivia: Cavendish shares his name with "The Navigator" Thomas Cavendish, an English explorer and privateer